Dan Rather Interviews Celebrities
Dan Rather Interviews Celebrities -Dan Rather is no stranger to conducting interviews with famous people, so he must feel right at home as the veteran journalist grills big names from the entertainment industry about their lives past, present and future.
In the intimate interviews, Rather gets his guests to open up about their backgrounds and careers.
Dan Rather Interviews Celebrities -The list of entertainers who have allowed the newsman to delve into their life stories includes Aaron Sorkin, Linda Ronstadt, Daryl Hannah, Merle Haggard, Roger Daltrey and Melissa Etheridge.
Belatedly, the iconic newsman is catching up. Starting in 2013, he launched the AXS TV series The Big Interview, in which he sits down for Q&As largely with figures from the entertainment world.
Dan Rather Interviews Celebrities – But pop music has dominated the series, resulting in the somewhat surreal sight of Rather grilling classic rockers (Neil Young, John Fogerty, Bob Weir, Robert Plant), indie-alt acts (R.E.M., Jack White), arena rockers (Styx, Foreigner), metal types (Gene Simmons, Bret Michaels), prog veterans (Geddy Lee, Yes' Jon Anderson), and country acts (Willie Nelson, Shania Twain, Charlie Daniels).
---
Dan Rather Interviews Celebrities – Robert Plant
(2018) – 50 min
---
Dan Rather sits down with Robert Plant, Led Zeppelin's legendary frontman, for a thoughtful conversation touching on Plant's most personal lyrics and the stories behind some of rock's most lasting hits.
"I think craft is the term I would use," he offers. "You grow into what might initially be an infatuation with the idea of entering something very special, very daring…
Being attracted to the footlights and the entertainment and the smell of a venue and the anticipation in a crowd, I loved that. I thought that was an amazing thing, you know.
I've been a music fan and a fan of all things that are interesting and occasionally unique so I'm always a member of the audience and an entertainer really. So, yeah, it's a craft."
In an interview with Rolling Stone, Plant once said, "It's the quest, the travels and explorations that Page and I went on to far climes well off the beaten track. … That, really, to me is the Zeppelin feel."
---
Dan Rather Interviews Celebrities – Ringo Starr
(2018) – 50 min
---
In the 100th episode of The Big Interview with Dan Rather, two legends sit down together as Ringo Starr discusses what it was like as a Beatle, and the struggles and successes of his life since.
Ringo Starr will appear on the 100th episode of AXS TV's The Big Interview With Dan Rather on October 2nd. According the network's announcement, "During the candid conversation, Ringo shares stories from his acclaimed career.
He talks about the brotherhood of the Beatles, his fateful introduction to the drums, and so much more."
Starr goes in-depth sharing stories from his acclaimed career as he talks about about his introduction to the drums as a child during one of many arduous hospital stays, maintaining his sense of authenticity through the superstardom, and the brotherhood of the Beatles.
And his highly successful career with his All-Starr Band, performing classic rock favorites with a revolving roster of his famous friends and fellow legends.
---
Dan Rather Interviews Celebrities – Neil Young
(2016) – 43 min
---
Music legend Neil Young sits down for a rare and candid interview about his career, his music and his environmental activism.
Neil Percival Young is a Canadian-American singer-songwriter, philanthropist, musician, humanitarian and activist.
After embarking on a music career in Winnipeg in the 1960s, Young moved to Los Angeles, joining Buffalo Springfield with Stephen Stills, Richie Furay and others.
Since the beginning of his solo career with his backing band Crazy Horse, Young has released many critically acclaimed and important albums, such as Everybody Knows This Is Nowhere, After the Gold Rush, Harvest and Rust Never Sleeps. He was a part-time member of Crosby, Stills & Nash.
Aside from his lyrical craft, Young is also hailed for another reason, his guitar playing.
Widely known as the 'Godfather of Grunge', it is safe to say that without Young's work with the Danny Whitten-era of Crazy Horse, and on their return to form with Frank Sampedro on 1975's Zuma, alt and noise rock would not exist as we know it.
Rather and Young cover a myriad of topics in the hour-long interview, from Young battling Polio as a child to his illustrious music career and everything in between.
While the episode yielded many fascinating answers from Young, here's the seven biggest takeaways, along with a sneak peek of the episode below.
His feelings about the power of corporations in America. Young doesn't mince words when it comes to the power of corporations in America and goes as far as saying they've helped "destroyed democracy in America."
When questioned by Rather on his perceived left wing ways, Young fires back saying , "Before the media get a hold of these things, were there red states and blue states?
Did they [the media] not separate the country into two pieces?…Where did this all start?
These are all Americans…and at the soul of it are people, not corporations."
How his childhood battle with Polio shaped his life
Young opens up about his struggle with Polio as a child and says it still affects the left side of his body (which is why most of his guitar playing is done with his right hand) and his ability to walk in a straight line.
He doesn't, however, make any excuses and says, "It certainly didn't slow me down."
When asked by the interviewer of his thoughts on guitar players who learn their craft formally in a school, he said: "It would give you a rather sad view of your future, wouldn't it?
First off, nobody cares if you know how to play scales. Nobody gives a shit if you have good technique or not."
He explained: "It's whether you have feelings that you want to express with music, that's what counts, really. When you are able to express yourself and feel good, then you know why you're playing."
---
Dan Rather Interviews Celebrities – Kid Rock
(2017) – 43 min
---
The original American badass, Kid Rock sits down with Dan at his Tennessee mountaintop "Trouble-wide" motor home.
Robert James Ritchie, known professionally as Kid Rock, is an American singer, songwriter and rapper.
His style alternates between rock, hip hop, country, and heavy metal.
A self-taught musician, he plays every instrument in his backing band and has overseen production on all but two of his albums.
During his episode of The Big Interview, Rock discusses a wide range of topics with Rather, from his love for hip-hop music to his spiritual beliefs — he even debuts a new song!
While recalling his early start, DJ-ing parties in rougher neighborhoods of his Michigan hometown, Rock says that those experiences made a huge impact on both his professional and personal life.
Rock ruminates on his teen years in Michigan, DJ-ing at parties in rough neighborhoods—a unique experience that had a major impact on his personal and profession life.
He explains, "It was rebellious, and fun, and great, and I was learning a lot that I didn't even realize at the time.
I was just doing what I loved, I really didn't know any better… There was dangerous stuff going on.
There was a lot of drug dealing, there was guns, there would be a lot of fights in these parties…
It still was a hell of an education… everything that I had soaking in taught me how to be a more worldly person in a lot of ways, just to be able to see a lot of different sides of things and be able to judge people, judge cultures, judge things, and be a little more open-minded about it."
"It was rebellious, and fun, and great, and I was learning a lot that I didn't even realize at the time," Rock tells Rather, an iconic journalist and former news anchor for CBS Evening News. 
"Everything that I had [been] soaking in taught me how to be a more worldly person in a lot of ways, just to be able to see a lot of different sides of things and be able to judge people, judge cultures, judge things, and be a little more open-minded about it."
Even from his early days, music has played an imperative role in Rock's life, not only in his career, but in helping him through hard times.
"Several times in my life when I've been very down, very hurt, I've always gone back to my first love: music.
It's always worked out pretty well," the artist says. "And it's another cliché that I believe wholeheartedly: When you're in a terrible space or your heart hurts, for whatever reason, you write good songs, as terrible as that is."
Opening up about the role music played in getting him through some difficult times—Rock reveals, "Several times in my life when I've been very down, very hurt, I've always gone back to my first love: music.
It's always worked out pretty well.
And it's another cliché that I believe wholeheartedly, when you're in a terrible space or your heart hurts, for whatever reason you write good songs, as terrible as that is… I found this to be true."
---
Dan Rather Interviews Celebrities – Oliver Stone
(2014) – 43 min
---
Dan Rather sits down with Academy Award winning director Oliver Stone. From his service in Vietnam, to his brief time behind bars in an American prison, Stone talks about how his personal experiences shaped his legendary film making career.
Dan Rather sits down with controversial filmmaker—and three-time Academy Award®-winner—Oliver Stone.
The talented director opens up about his distinguished career, and frankly discusses the work of some of his contemporaries.
The always-candid Stone also discusses his regrets, why Barack Obama's presidency wouldn't make an interesting film, and his latest project: a controversial 10-part series for Showtime, focusing on the history of the United States following World War II.
William Oliver Stone is an American film director, producer, and screenwriter.
Stone won an Academy Award for Best Adapted Screenplay as writer of Midnight Express (1978), and wrote the gangster film remake Scarface (1983).
Stone achieved prominence as writer and director of the war drama Platoon (1986), which won Academy Awards for Best Director and Best Picture. Platoon was the first in a trilogy of films based on the Vietnam War, in which Stone served as an infantry soldier.
He continued the series with Born on the Fourth of July (1989)—for which Stone won his second Best Director Oscar—and Heaven & Earth (1993).
Stone's other works include the Salvadoran Civil War-based drama Salvador (1986); the financial drama Wall Street (1987) and its sequel Money Never Sleeps (2010); the Jim Morrison biographical film The Doors (1991); the satirical black comedy crime film Natural Born Killers (1994); a trilogy of films based on the American Presidency: JFK (1991), Nixon (1995), and W. (2008); and Snowden (2016).
"Part of me wants to fit in and would love to get Oscars," Stone continued in a second clip from the piece (posted below).  
"But there's another part of me that says, 'I'm fucked, I'm on the other side of history.'"
---
Dan Rather Interviews Celebrities – Dolly Parton
(2014) – 43 min
---
Country music superstar Dolly Parton talks about love, life and her latest album with Dan Rather in Dollywood.
Dolly Rebecca Parton is an American singer, songwriter, multi-instrumentalist, actress, author, businesswoman and humanitarian, known primarily for her work in country music.
After achieving success as a songwriter for others, Parton made her album debut in 1967 with Hello, I'm Dolly, which led to success during the remainder of the 1960s, before her sales and chart peak came during the 1970s and continued into the 1980s.
Parton's albums in the 1990s did not sell as well, but she achieved commercial success again in the new millennium and has released albums on various independent labels since 2000, including her own label, Dolly Records.
She has sold more than 100 million records worldwide.
'I love having to rise to an occasion, and … being able to do something that I hope might impress somebody. … So I just pray about it, and I just reach out there and do it. It may not be great, but … I can write any kind of music, any style,' Parton says.
"I just wanted to do really good work, and I wanted it to make a really big difference in the world … to uplift mankind and glorify God," Parton says to me, justifying her early ambition, as she conveyed it in a 1977 interview with Barbara Walters, to become a "superstar."
I wish she didn't feel compelled to defend this, but I understand: Wherever one places Parton on the spectrum of contemporary feminism, her candor about her professional ambition remains remarkable for a woman, then as now. In fact, the archive she presents in "Songteller" expresses not only her dream of superstardom but also her expectation of its fulfillment.
Its pages are filled with items that Parton must have decided to keep long before she was famous: a dry-cleaning receipt of Wagoner's on which she scrawled the lyrics to her 1971 classic "Coat of Many Colors"; the first royalty check she received for a song she wrote (dated February 1966), in the amount of $1.02.
She still saves everything; her creative director Steve Summers tells me her archive is "massive."
---
Dan Rather Interviews Celebrities – Simon Cowell
(2014) – 43 min
---
As we near the launch of The X-Factor UK on AXS-TV, we meet the mind behind the highly successful reality program.
Simon Phillip Cowell (born 7 October 1959) is an English television personality, entrepreneur, and record executive.
He has judged on the British television talent competition series Pop Idol (2001–2003), The X Factor UK (2004–2010, 2014–2018) and Britain's Got Talent (2007–present), and the American television talent competition series American Idol (2002–2010), The X Factor US (2011–2013), and America's Got Talent (2016–present). Cowell is the founder and sole owner of the British entertainment company Syco.
After some success in the 1980s and 1990s as a record producer, talent scout and consultant in the UK music industry, Cowell came to public prominence in 2001 as a judge on Pop Idol, a show which he and its creator Simon Fuller successfully pitched to ITV Controller of Entertainment Claudia Rosencrantz.
He subsequently created The X Factor and Got Talent franchises which have been sold around the world. In 2004 and 2010, Time named Cowell one of the 100 most influential people in the world.
In 2008, The Daily Telegraph ranked him sixth in their list of the "100 most powerful people in British culture".
The same year, he received the Special Recognition Award at the National Television Awards.
At the 2010 British Academy Television Awards, Cowell received the BAFTA Special Award for his "outstanding contribution to the entertainment industry and for his development of new talent".
In 2018, he received a star on the Hollywood Walk of Fame in the television category.
Cowell often makes blunt and controversial comments as a television music and talent show judge, including insults and wisecracks about contestants and their singing abilities.
Cowell has produced and promoted successful singles and albums for various recording acts whom he has signed and taken under his wing, including Little Mix, James Arthur, Labrinth, Leona Lewis, Fifth Harmony, Il Divo, Olly Murs, Noah Cyrus, Cher Lloyd, Fleur East, and Susan Boyle.
He has also signed successful boybands such as Westlife, One Direction and CNCO.
He recalls growing up in Borehamwood, near Elstree Studios in Hertfordshire, and peeking over the fence at parties thrown by his parents' film producer neighbour.
"I remember vividly – I've spoken about this before, John – looking over the garden wall, where they had these lavish parties with Elizabeth Taylor and Richard Burton, all the big names.
I remember thinking, 'Christ, that's quite a party. I'd like to be there.'"
---
Dan Rather Interviews Celebrities – Carlos Santana
(2015) – 43 min
---
From Las Vegas, Dan Rather catches up with music legend Carlos Santana.
Carlos Santana (born July 20, 1947) is a Mexican and American musician who first became famous in the late 1960s and early 1970s with his band, Santana, which pioneered a fusion of rock and Latin American music.
The band's sound featured his melodic, blues-based guitar lines set against Latin and African rhythms featuring percussion instruments such as timbales and congas not generally heard in rock music.
Santana continued to work in these forms over the following decades. He experienced a resurgence of popularity and critical acclaim in the late 1990s.
In 2003 Rolling Stone magazine listed Santana at number 20 on their list of the 100 Greatest Guitarists of All Time.
 Carlos Humberto Santana Barragán is an American guitarist who rose to fame in the late 1960s and early 1970s with his band Santana, which pioneered a fusion of rock 'n' roll and Latin American jazz.
Its sound featured his melodic, blues-based lines set against Latin American and African rhythms played on percussion instruments not generally heard in rock, such as timbales and congas.
He experienced a resurgence of popularity and critical acclaim in the late 1990s.
In 2015, Rolling Stone magazine listed him at No. 20 on their list of the 100 greatest guitarists.
He has won 10 Grammy Awards and three Latin Grammy Awards, and was inducted along with his namesake band into the Rock and Roll Hall of Fame in 1998.
---
Dan Rather Interviews Celebrities – Frankie Valli
(2015) – 42 min
---
Frankie Valli, the man responsible for dozens of hits as the lead singer for the Four Seasons, sits down with Dan Rather.
He was born Francesco Stephen Castelluccio, the youngest son to an Italian family in Newark, New Jersey.
Francesco Stephen Castelluccio, known professionally as Frankie Valli, is an American singer, known as the frontman of the Four Seasons beginning in 1960.
He is known for his unusually powerful lead falsetto voice. Valli scored 29 top 40 hits with the Four Seasons, one top 40 hit under the Four Seasons alias the Wonder Who?, and nine top 40 hits as a solo artist.
As a member of the Four Seasons, Valli's number-one hits include "Sherry" (1962), "Big Girls Don't Cry" (1962), "Walk Like a Man" (1963), "Rag Doll" (1964) and "December, 1963 " (1975). Valli's recording of the song "Can't Take My Eyes Off You" reached number two in 1967.
As a solo artist, Valli scored number-one hits with the songs "My Eyes Adored You" (1974) and "Grease" (1978).
His father was a barber, his mother a beer company employee and apparently Francesco was inspired to take up singing as a career at the age of seven, when his mother took him to see a young man called Frank Sinatra in concert.
Frankie began singing professionally at the age of 17 and in less than a year the original composition of The Four Seasons was established.
The musical Jersey Boys picks up the narrative from there. This jukebox greatest hits musical is coming to Dublin's Bord Gais Energy Theatre (bordgaisenergytheatre.ie) next week.
---
Dan Rather Interviews Celebrities – John Leguizamo
(2015) – 43 min
---
He is becoming a legendary Latino comedian, but John Leguizamo has a long list of stage and film credits as well.
John Alberto Leguizamo is an American actor, comedian, producer, playwright and screenwriter.
Leguizamo was born July 22, 1964, in Bogotá, Colombia, to Luz and Alberto Leguizamo.
He was four when his family emigrated to the United States. He was raised in Queens, New York, attended New York University and studied under legendary acting coach Lee Strasberg for only one day before Strasberg passed away.
The extroverted Leguizamo started working the comedy club circuit in New York and first appeared in front of the cameras in an episode of Miami Vice (1984). His first film appearance was a small part in Mixed Blood (1984), and he had minor roles in Casualties of War (1989) and Die Hard 2 (1990) before playing a liquor store thief who shoots Harrison Ford in Regarding Henry (1991).
His career really started to soar after his first-rate performance in the independent film Hangin' with the Homeboys (1991) as a nervous young teenager from the Bronx out for a night in brightly lit Manhattan with his buddies, facing the career choice of staying in a supermarket or heading off to college and finding out that the girl he loves from afar isn't quite what he thought she was.
Fast-talking and feisty-looking John Leguizamo has continued to impress movie audiences with his versatility: he can play sensitive and naive young men, such as Johnny in Hangin' with the Homeboys (1991); cold-blooded killers like Benny Blanco in Carlito's Way (1993); a heroic Army Green Beret, stopping aerial terrorists in Executive Decision (1996); and drag queen Chi-Chi Rodriguez in To Wong Foo, Thanks for Everything! Julie Newmar (1995). Arguably, not since ill-fated actor and comedian Freddie Prinze starred in the smash TV series Chico and the Man (1974) has a youthful Latino personality had such a powerful impact on critics and fans alike.
He has since appeared in Romeo + Juliet (1996), A Brother's Kiss (1997), Body Count (1998), Summer of Sam (1999), Collateral Damage (2002), The Alibi (2006), Righteous Kill (2008), Repo Men (2010), and The Counselor (2013).
He has provided voice-work for Sid the Sloth in the animated commercially successful Ice Age film series (2002–2016), as the narrator of the sitcom The Brothers García (2000–2004), and as Bruno in Encanto (2021). Leguizamo had a recurring role on ER and was a series regular on The Kill Point.
He is also known for his role as Ozzy Delvecchio on Bloodline.
---
Dan Rather Interviews Celebrities – Quentin Tarantino
(2015) – 43 min
---
Dan is invited to the private screening room of one of the most outspoken, controversial, and most respected directors of our time, Oscar winner Quentin Tarantino.
Quentin Jerome Tarantino (born March 27, 1963) is an American film director, screenwriter, producer, cinematographer and actor.

Quentin Jerome Tarantino is an American filmmaker, film director, screenwriter, producer, film critic, and actor.
His films are characterized by nonlinear storylines, dark humor, stylized violence, extended dialogue, ensemble casts, references to popular culture, alternate history, and neo-noir.
His films are characterized by elements including recurring actors, nonlinear storylines, stylized violence, Black Comedy, witty dialogue oft laced with pop culture references, Trunk Shots, close-ups on feet, especially women's bare feet (don't ask), and a volume of homages and Shout-Outs to other movies only attainable with an absurdly encyclopedic knowledge of film history.

According to legend, he learned everything he knows about filmmaking from watching old and obscure movies with his stepfather and working at a video rental store in Manhattan Beach.
 Roger Ebert once quipped that the store owner should get a finder's fee based on QT's subsequent career.
Tarantino's films have earned him Academy, Golden Globe, BAFTA and Palme d'Or Awards, and he has been nominated for Emmy and Grammy Awards.
In 2007, Total Film named him the 12th greatest director of all-time. He is known for being very excited about his movies in interviews.

In 2014, he announced that he planned to retire from films after making his tenth, having reportedly learned from the trajectories of other directors that it's best for him to quit while he's ahead.
He has currently made nine films as of this writing (counting both parts of Kill Bill as one film, as he intended) and hasn't backed down from the plan in interviews since.
---
Dan Rather Interviews Celebrities – Benicio Del Toro
(2016) – 43 min
---
Oscar winner and star of the current hit "Sicario" talks about making it in Hollywood. Plus, his advice for those who want to become successful actors.
Benicio Monserrate Rafael del Toro Sánchez is a Puerto Rican actor and producer.
 Del Toro was born in San German, Puerto Rico, to Gustavo Adolfo Del Toro Bermudez and Fausta Genoveva Sanchez Rivera.
He attended Academia del Perpetuo Socorro (The Academy of Our Lady of Perpetual Help) in Miramar, Puerto Rico. His mother died of hepatitis when he was nine years old, and at twelve he moved with his father and brother to Mercersburg, Pennsylvania.
Here, del Toro attended Mercersburg Academy. After graduating, del Toro enrolled at the University of California, San Diego, to study a degree in business.
While here, he took part in a drama course, and after seeing success in the field of acting, he dropped out of university to study at the Circle in the Square Theatre School, in New York City.
Del Toro began his career with a part on the CBS show, 'Shell Game' in 1987. He followed this up with an appearance in 'Miami Vice' and the James Bond film, 'Licence to Kill' which was released in 1989.
He continued to work in a stream of movies in small parts, like 'The Indian Runner', 'China Moon', 'Christopher Columbus: The Discovery', 'Money for Nothing', 'Fearless' and 'Swimming with Sharks'.
In 1995, del Toro appeared beside Kevin Spacey in 'The Usual Suspects', earning him an Independent Spirit Award for Best Supporting Actor, as well as public esteem. The performance led to his casting in better roles in films like 'The Funeral', 'Basquiat' and 'The Fan'.
In 1997, he starred alongside Alicia Silverstone in the film 'Excess Baggage', which she produced. The following year, del Toro gained a great cult following for his work in Terry Gilliam's adaptation of 'Fear and Loathing in Las Vegas' by Hunter S. Thompson, where he starred alongside Johnny Depp.
Del Toro then took a two year hiatus from acting, before returning to star in the film 'The Way of the Gun', directed by 'The Usual Suspects' screenwriter, Christopher McQuarrie, in a directorial debut.
He then appeared in Steven Soderbergh's 'Traffic', winning an Academy Award for Best Supporting Actor, as well as the Golden Globe Award and the Screen Actors Guild award for Best Actor.
Del Toro's performance as ex-con turned religious fanatic in despair Jack Jordan, in Alejandro González Iñárritu's 21 Grams (2003), earned him a second nomination for the Academy Award for Best Supporting Actor.
In 2005, he appeared in Robert Rodriguez' adaptation of Frank Miller's 'Sin City'.
In 2008, he earned award nominations for his portrayal of Che Guevara in the biopic 'Che'. In 2010, he produced and starred in 'The Wolfman', before receiving a small role in the Marvel Studios films, 'Thor: The Dark World' and 'Guardians of the Galaxy' – the latter showed his character's role slightly extended.
---
Dan Rather Interviews Celebrities – Willie Nelson
(2016) – 43 min
---
He's on the road again. Dan catches up with music legend Willie Nelson aboard his new tour bus.
Willie Hugh Nelson, the unofficial patron saint of Texas music, is a country legend who has written more than 350 songs and released more than 100 albums (not counting greatest hits collections).
He's also known for his social activisim, co-creating Farm Aid. But his work with that organization is overshadowed by his support of the legalization of marijuana.
Willie was born in Abbott, Texas, in 1933.
(He's been arrested multiple time for possession of the drug, most recently after being stopped at the infamous Sierra Blanca border checkpoint).
He started writing songs when he was five years old, and when he was six, Willie's grandfather gave him a Stella guitar.
The first song Willie learned was "Show Me the Way to Go Home."
He was inducted into the Country Music Hall of Fame in 1993, and in 2012, the Country Music Association paid him tribute at the Country Music Awards.
Willie is renowned for being an affable collaborator and has worked with Phish, Toby Keith, T Bone Burnett, Ray Charles, Wynton Marsalis, Norah Jones, and most recently—and perhaps most impressively—he convinced Snoop Dogg to croon along with him on "Roll Me Up and Smoke Me When I Die."
Willie Hugh Nelson is an American musician, actor, and activist. The critical success of the album Shotgun Willie (1973), combined with the critical and commercial success of Red Headed Stranger (1975) and Stardust (1978), made Nelson one of the most recognized artists in country music.
He was one of the main figures of outlaw country, a subgenre of country music that developed in the late 1960s as a reaction to the conservative restrictions of the Nashville sound.
Nelson has acted in over 30 films, co-authored several books, and has been involved in activism for the use of biofuels and the legalization of marijuana.
---
Dan Rather Interviews Celebrities – Shania Twain
(2018) – 43 min
---
Eilleen Regina "Shania" Twain OC is a Canadian singer and songwriter. She has sold over 100 million records, making her the best-selling female artist in country music history and one of the best-selling music artists of all time.
The five-time Grammy Award–winning star has, for decades, blurred the lines of country and pop, giving us super catchy hits like "That Don't Impress Me Much," "Up!," "Forever and Always," "I'm Gonna Getcha Good," and "Rock This Country!" That's a lot of exclamation marks—and for good reason.
Her success garnered her several honorific titles including the "Queen of Country Pop".
Dan Rather sits down with Shania Twain, the best-selling female country music artist of all time, to discuss her #1 album, released 15 years after a battle with Lyme disease nearly took away her ability to sing.
"The greatest fear for me was just getting started, just taking that step forward," Shania tells the respected newsman.
"Once I claimed that place and that courage, it was all fun and exciting."
In the end, Shania says she wanted the new record to be upbeat, but that posed its own set of challenges.
"That meant I was going to have to be very transparent," she explains.
Twain transcends music.
She stands as an avatar for the '90s itself, a style icon whose inversion of Robert Palmer's Addicted To Love video on Man! I Feel Like A Woman! and leopard print outfit in the That Don't Impress Me Much video every bit as defining an image of the decade as Geri Halliwell's Union Jack dress at the BRITs or Kurt Cobain, bathed in yellow light, laughing hysterically into the camera lens at the end of the Smells Like Teen Spirit video.
---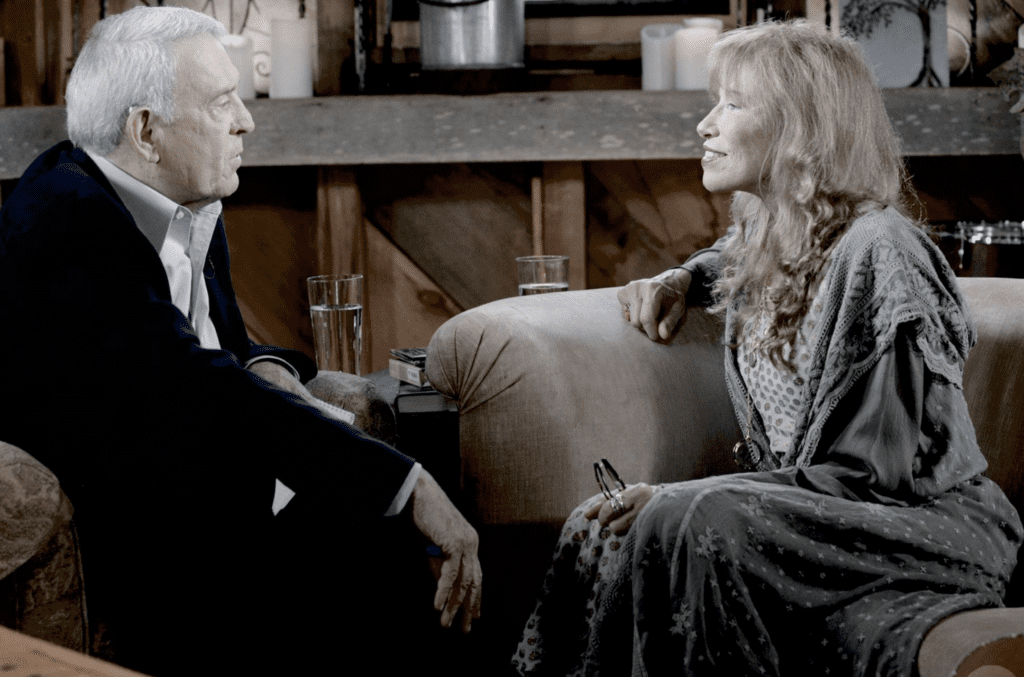 Dan Rather Interviews Celebrities – Carly Simon
(2016) – 43 min
---
A visit with legendary artist Carly Simon at her home where she discusses her career, her relationships and growing up in a famous family.
Carly Elisabeth Simon is an American singer, songwriter, and children's author. She rose to fame in the 1970s with a string of hit records; her 13 Top 40 U.S. hits include "Anticipation", "Haven't Got Time for the Pain", "Attitude Dancing", "You Belong to Me", "Coming Around Again", and her four Gold-certified singles "You're So Vain", "Mockingbird", "Nobody Does It Better" from the 1977 James Bond film The Spy Who Loved Me, and "Jesse". She has authored five children's books, as well as two memoirs.
As one of the preeminent singer-songwriters of her generation, an artist who's received an Oscar, multiple Grammy Awards, and an induction into the Songwriters Hall of Fame (1994), Simon threads her music through several stories, whether using her lyrics as a narrative device or discussing the root behind some of her most well-known songs.
Just like her father sought shelter in Rachmaninoff and Beethoven after his partners bought him out of Simon & Schuster in 1956, Simon found refuge and self-expression through music.
"Music brought me closer to the idea of God," she writes. "Music gave me the energy to revise, revive myself; renew, rebirth myself. It was a palliative, a relief."
Indeed, her impulse to channel feelings into melodies has created compelling musical snapshots of her life, from romantic bliss ("The Right Thing to Do") to irony that guts the soul ("We're So Close"), from rekindled desire ("Waterfall") to richly detailed character studies ("Legend in Your Own Time").
---
Dan Rather Interviews Celebrities – Aaron Sorkin
(2013) – 43 min
---
Aaron Sorkin is one of the most noted, celebrated and controversial screenwriters of his time.
Dan Rather sits down with the man behind the creation of movies such as "The Social Network" and TV hits like "The West Wing" and "The Newsroom".
We've been well aware that he's the best screenwriter in the business, but this sophomore outing behind the camera showcases that he's a rock solid director as well. Inarguably, Aaron Sorkin is a heavyweight champ when it comes to writing. He's tackled and mastered television and film, with roots in stage plays. That theatre background is certainly what shines through in his ability to write razor-sharp dialogue.
He can't be pegged with doing a certain genre. From The West Wing to The Trial of the Chicago 7, the scope of the topics he covers is vast. What's the secret to his writing success? There is no secret. It's just a matter of putting in the work.
Aaron believes research depends on the project, whether it's fiction or non-fiction.
At the beginning of a project, you don't know what questions to ask.
I start talking to people and doing research.
But at some point, you have to leave the research behind and start writing.
Aaron says when he is looking for a new project, I'm not looking for a theme or genre.
What I ask myself is, 'Do I have a chance of writing a good screenplay?' If the answer is 'Yes, there's a chance,' my excitement turns to angst in three minutes…!
Sorkin wrote A Few Good Men during intermissions at the Palace Theatre. My sister graduated from law school and went into the Navy. She was sent to Guantanamo Bay. She told me about something that happened down there and that inspired it.
Sorkin says a television series is the most difficult to write. "I've had four different shows.
With a movie or a play, when you get stuck, you can call the producer or director and talk about delaying the deadline.
With a TV series, you have airdates to meet. You have to write, even when you're not writing well.
For me, the most difficult script is always the last one I wrote."
Aaron Sorkin continues to impress as a filmmaker.
---
Dan Rather Interviews Celebrities – Kiefer Sutherland
(2017) – 42 min
---
Kiefer William Frederick Dempsey George Rufus Sutherland is a British-Canadian actor, producer, director, and singer.
Sutherland was born 21 December 1966, in St Mary's Hospital, Paddington, London, to Donald Sutherland and Shirley Douglas, both successful Canadian actors who had been living and working in England for some time.
He has a twin sister, Rachel, who works as a post-production film supervisor.
His maternal grandfather was Scottish-born Canadian politician and former Premier of Saskatchewan Tommy Douglas, who is widely credited for bringing universal health care to Canada.
Sutherland is named after American-born writer and director Warren Kiefer, who directed Donald Sutherland in his first feature film, Castle of the Living Dead.
Sutherland's family moved to Corona, California, in 1968.
His parents divorced in 1970. In 1975, Sutherland moved with his mother to Toronto, Ontario.
He attended elementary school at Crescent Town Elementary School, St. Clair Junior High (now Gordon A. Brown Middle School) East York, and John G. Althouse Middle School in Toronto.
He attended several high schools, including St. Andrew's College, Martingrove Collegiate Institute, Harbord Collegiate Institute, Silverthorn Collegiate Institute, Malvern Collegiate Institute, and Annex Village Campus.
He also spent a semester at Regina Mundi Catholic College in London, Ontario and attended weekend acting lessons at Sir Frederick Banting Secondary School.
Sutherland and Robert Downey, Jr. were roommates for three years when he first moved to Hollywood to pursue his career in acting.
He and Downey, Jr. also starred together in the film 1969.
Kiefer Sutherland's talents go far beyond acting and he's got a new album to prove it.
He is best known for his starring role as Jack Bauer in the Fox drama series 24 (2001–2010, 2014), for which he won an Emmy Award, a Golden Globe Award, two Screen Actors Guild Awards, and two Satellite Awards.
Sutherland got his first leading film role in the Canadian drama The Bay Boy (1984), which earned him a Genie Award nomination.
Since that time he has had a successful film career, starring in films such as Stand by Me (1986), The Lost Boys (1987), Young Guns (1988), Flatliners (1990), A Few Good Men (1992), The Three Musketeers (1993), A Time to Kill (1996), Dark City (1998), Phone Booth (2002), Melancholia (2011), Pompeii (2014) and Flatliners (2017).
He starred as President Tom Kirkman in the political drama series Designated Survivor.
Sutherland has been inducted to the Hollywood Walk of Fame and to Canada's Walk of Fame, and has received a Lifetime Achievement Award at the Zurich Film Festival.
---
---
What to Binge Watch on Netflix >>
What to Binge Watch on Amazon Prime >>
What to Binge Watch on HBO, Paramount + & Showtime >>
---